Venngage User Persona Guide
Visualize your ideal customer and help your team understand how customers use your product with an informative user personal guide. No design experience required.


Not a designer? No problem. With our library of simple and easy-to-edit templates, anyone can start creating a user persona in seconds. Over 40,000 businesses use and trust Venngage to create professional personas online.

Create a visually appealing and useful persona guide by:

Creating more than one persona: An effective persona guide should feature 2-4 well thought out personas.
Including your own images: A persona guide should feel like it's describing a real person, so use real photos.
Using compelling colors: Color can say a lot about a person, use it to give your personas more depth.
Adding a graph or chart: Use graphs and charts to explain your persona or their traits in greater detail.
Design a persona guide online using Venngage in 5 simple steps:
1
Sign up for Venngage for free with an email, Gmail or Facebook account.
2
Select the perfect persona guide template for your company.
3
Add your written content, important information or findings to the persona guide template.
4
Use some icons, illustrations or images to make your personal guide visually stunning.
5
Download your persona guide with a single click or share it directly with your team.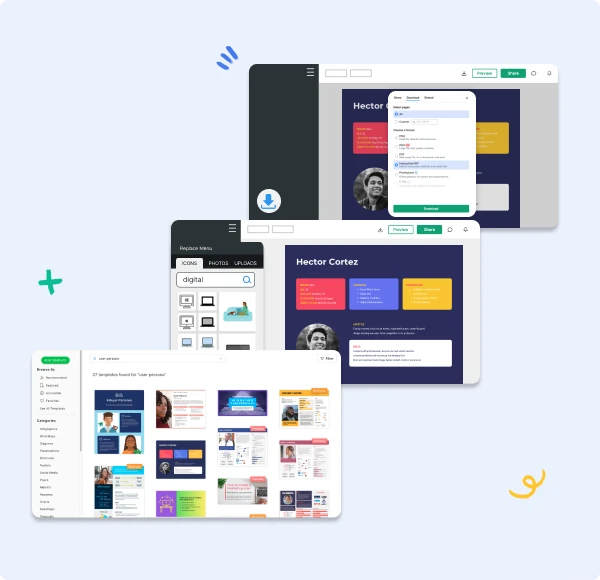 Venngage's Persona Maker helps you visualize your ideal customers more effectively

Persona Guide Templates
Choose from our professional persona infographic templates to visualize the traits, characteristics, and behaviors that make a perfect customer. No design experience needed.
User-Friendly Editor
Swap out text, images, icons, and add data to your persona with minimal effort. The easy drag-and-drop Venngage editor is simple to use.
Export to PNG, PDF, or PowerPoint
Easily download your persona guide as a high-quality PNG or PDF with a single click. Or export your personas as a PPTX file to add to your presentations.
Stock Photos & Icons
Make your persona guide truly unique with our collection of 3+ million stock images and 40,000+ icons and illustrations.
Priority Support
Questions for us? We're here to help! Our support team is with you at any hour for assistance, so you can create the best persona guide for your company without any friction.
Team Collaboration
Collaborate with your team members on your persona infographic in real time. Leave comments and feedback so everyone can use the Persona Maker to the best of their ability.
Persona Creator FAQ
How do I sign up for Venngage?
Join Venngage for FREE by signing in with your email, Gmail or Facebook account. Once you've done signing up, you can choose a persona template and get started right away.
What if I'm not a designer?
No worries! Our designers have already done all the hard work for you and created exceptional persona guide templates. All you need to have is your understanding of your own customers and a bit of creativity. Better yet, you can always reach out to our Customer Support team if you need help with your design.
Can I print out my persona guide?
Yes! You can download it as a high quality PNG or PDF and then print it out. If you want to add your persona guide to your presentation first before printing, that works too — simply download it as a PPTX file first.
Didn't find a template you liked? Check out more persona guide templates from our templates page.
CREATE A USER PERSONA