Venngage Collage Maker
Showcase your photos with Venngage's easy online collage maker—no design experience necessary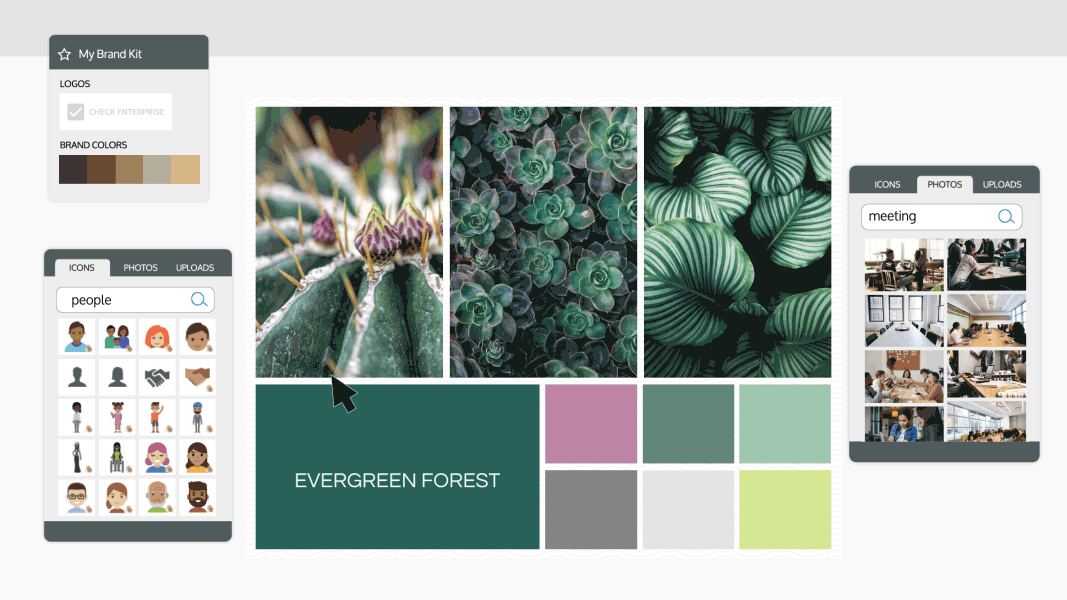 Not a designer? Not a problem. With Venngage's free library of easy-to-edit collage templates, anyone can create stunning collages in minutes. 40,000+ businesses have trusted Venngage's free collage maker tool to improve their designs!

Create your own online photo collage

Get access to hundreds of easy-to-edit creative and colorful collage designs, high-quality stock photos, icons, charts, illustrations, and data visualization widgets to use.
Create your custom collages with our drag-and-drop online editor. We provide hundreds of easy editing assets. Change the page size with pre-set options or add a custom size.
Add your logo or company assets to all our collage examples in seconds. No need to use complex design software to have your stationery materials on brand!
Showcase your collage designs to your team. Print the collages or share them online in just a few clicks. Download it as a PNG file, PPT, or PDF file.
Use Venngage's online collage maker in 5 simple steps:
1
Sign up for a free Venngage account using your email, Gmail or Facebook account.
2
Pick a photo collage template that suits your fancy.
3
Drop in your photos. You can upload as many as you want!
4
Let your imagination run wild. Our drag-and-drop design editor makes it super easy to customize your photo collage template with different colors, fonts and images.
5
Download your photo collage in PNG or PDF format.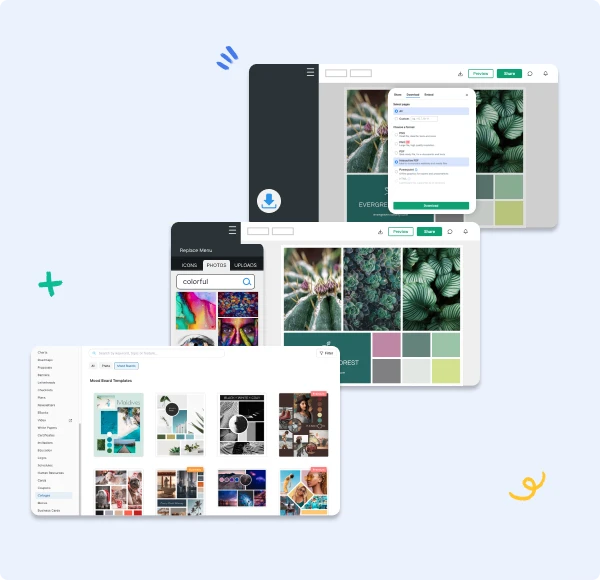 Pick a professionally-designed photo collage template

Fully Customizable Designs
You don't have to be a designer but you can if you want to! Get crafty with Venngage's tools and make any of our professionally-designed templates entirely your own.
User-Friendly Editor
Venngage easy drag-and-drop editor allows you to swap out text, images, icons and add data with just one click. You can even adjust your collage size!
Download in Various Formats
Easily share your creative collages online with your co-workers, and friends or create high-quality prints by downloading your creation as a PNG, PPT or PDF.
Fonts and Visuals
Harness the transformative power of fonts and visuals to create a compelling impact that speaks volumes.
24-Hour Priority Support
Got a question? We're here to help. Our support team is available around the clock, so your team can keep working like clockwork.
Royalty-Free Stock Photography
Our template creator tool is integrated with Pixabay and Pexels to elevate your design. Access stunning, professional photography with just one click.
FAQs
How do I sign up for Venngage?
You can sign up using your email, Gmail or Facebook account.
How do I save my photo collage?
Venngage will automatically save your photo collage as you work. You can go back and edit it as many times as you want.
What if I want to print my photo collage?
For printing, we recommend downloading your photo collage in PDF format.
Venngage isn't just for photo collages! Browse our template library to jump start your next project.
CREATE A COLLAGE

Pick a template to start using Venngage's online collage maker: