Venngage Online Magazine Cover Maker
Design striking and polished magazine covers effortlessly, even without any design experience!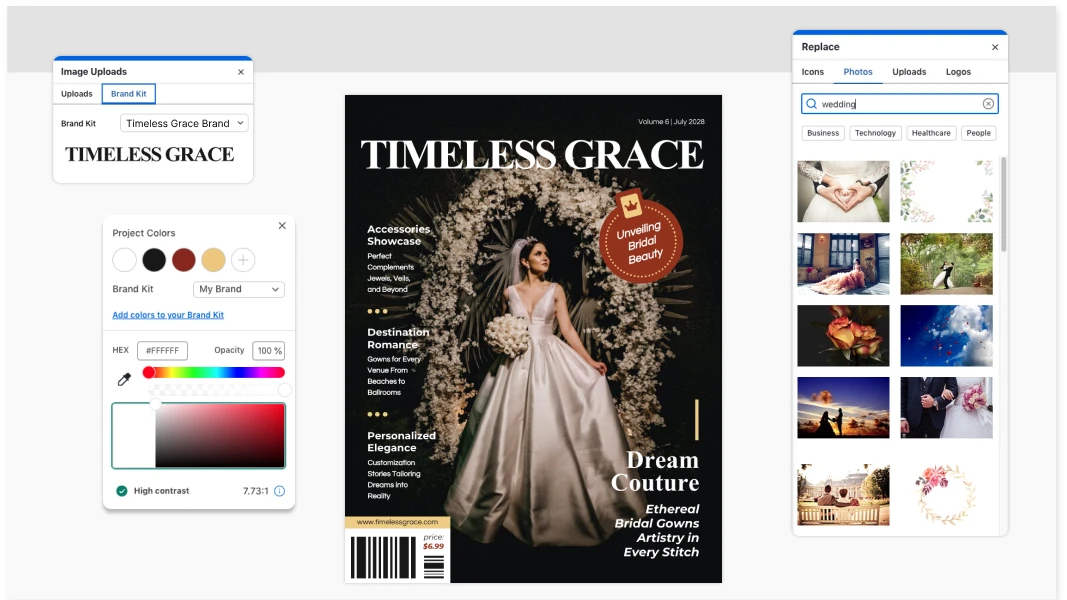 Not a designer? No problem. With our library of simple and easy-to-edit templates, anyone can start creating a magazine cover in seconds. Over 40,000 businesses use and trust Venngage to make professional magazine covers.

Craft magazine covers that captivate and leave a lasting impression

Choosing the perfect magazine cover template is effortless with Venngage's extensive collection. Opt for a template that aligns seamlessly with your project's layout and page dimensions.
Choosing the right font: Fonts communicate the magazine's vibe, whether it's professional, personal, or passionate. Opt for a font that seamlessly resonates with your magazine's tone and aesthetic.
Personalize visuals and captivate readers with a captivating, motivational, or curiosity-piquing cover image. Utilize your own images or select from our comprehensive image library, seamlessly integrated with Unsplash.
Infuse your business identity into the magazine cover effortlessly! Incorporate your logo and brand color scheme with a simple click.
How to use Venngage to make a magazine cover in just 5 steps:
1
Sign up for Venngage. Creating an account is free.
2
Pick a professionally designed template that fits your vision.
3
Insert your magazine title and any other text you want to include.
4
Customize your magazine cover using Venngage's variety of fonts, stock photos, icons, and illustrations.
5
Download your design in high-quality PNG or PDF format.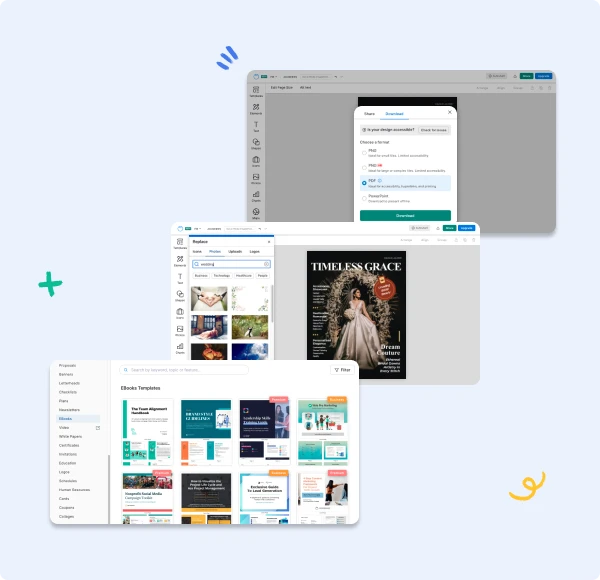 Design magazine covers that instantly grab attention and reflect your publication's essence

Customizable Magazine Covers
Craft an irresistible magazine cover effortlessly with Venngage. Whether you prefer extensive customization or minimal changes, our platform offers seamless design flexibility.
User-Friendly Editor
The user-friendly Venngage editor employs a straightforward drag-and-drop system. Effortlessly replace text, images, icons, and include data with a single click.
Convert Magazine Covers
Incorporate your images into magazine cover templates and effortlessly share your creation by downloading in PNG or PDF formats.
Real-Time Collaboration
Collaborate with your team on creating magazine covers. Share instant feedback and comments to enhance the effectiveness of your design.
24/7 Support
Questions? We can help! Our support team is available for you at any time, so that your team can work seamlessly.
Royalty-Free Stock Photography
Seamless integration with Pixabay and Pexels enhances your design experience. Explore our image library featuring a wide array of professional photographs across various categories.
FAQs
How do I sign up for Venngage?
To start using Venngage, all you have to do is sign up with your email, Facebook or Gmail account.
Can I edit my magazine cover design after it's saved?
Yes! You can go back and edit your magazine cover at any time.
Can I share or print out my magazine covers?
It's free to email or share your magazine cover on social media. There's a small monthly fee required to download your designs as a PDF or PNG.
Use Venngage magazine cover maker to effortlessly create a captivating and eye-catching design for your publication
DESIGN MAGAZINE COVERS

Pick a Magazine Template to Get Started: