Venngage Invoice Maker
Simplify invoicing with our intuitive Invoice Maker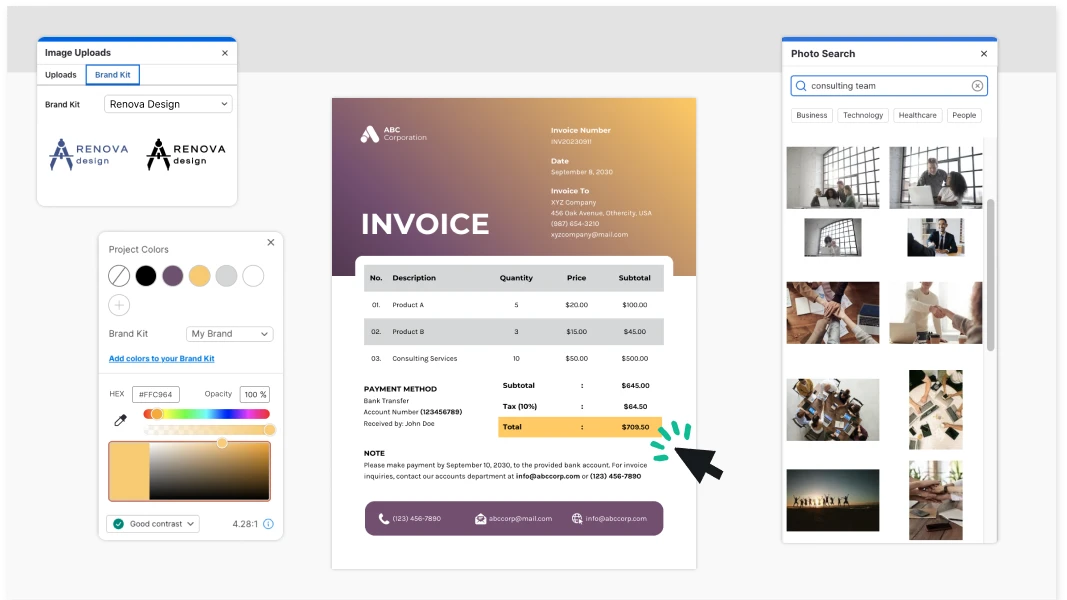 No design experience needed! Begin crafting invoices in seconds with our user-friendly and robust template library.Over 40,000 businesses use Venngage's custom invoices to improve their workflow.

Create polished invoices that balance aesthetics and financial precision with our design expertise

Easily design a variety of invoice layouts using our intuitive editor and an array of customizable templates.
Explore a vast selection of design elements, from brand logos and color schemes to fonts, and seamlessly integrate your own assets such as logos, images, and preferred fonts.
Discover ideal graphics among our vast library of 40,000+ icons to elevate your invoices and promotions, creating a delightful experience for your business.
Once you've finished customizing your invoice template, you can freely publish your design or choose to upgrade to download it in your preferred format.
How to create an invoice in 5 easy steps:
1
Sign up for a free Venngage account with your email, Gmail or Facebook address.
2
Explore our collection of ready-to-use invoice templates, select the design that aligns with your vision, and begin crafting.
3
Experience full creative control with Venngage's invoice maker, allowing you to customize everything from layout and message to background, icons, images, and more!
4
When your invoice template is prepared, effortlessly share it online with a single click, encouraging other users to tailor their designs.
5
Upgrade to a Business or Premium account to download in multiple formats or to print your creation.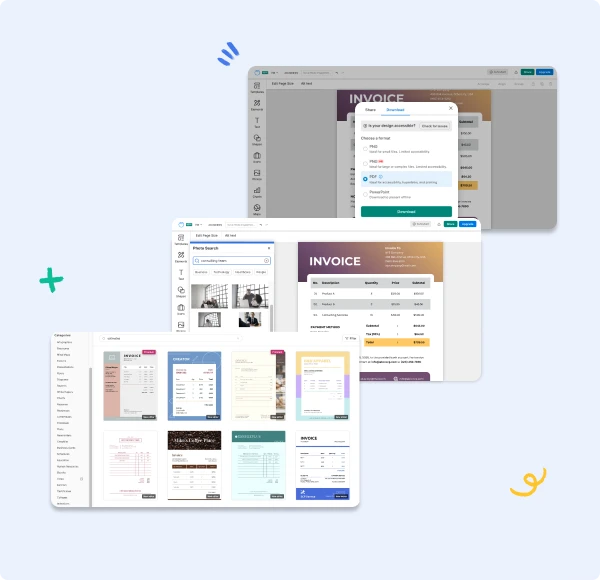 Invoice design fuses professionalism with visual appeal

Customizable Invoices
Explore colors, fonts, text, and images to align your invoicing with your business's branding and style.
User-Friendly Editor
Effortlessly craft and personalize your invoices using Venngage's user-friendly drag-and-drop app, enabling seamless text, image, icon swaps, and data insertion with a simple click.
Export to Various Formats
With our invoice generator, you have the option to share it for free or upgrade to the Business plan for downloading in high-quality formats such as PNG, interactive PDF, PPT, and more.
Fonts and Visuals
Venngage grants you entry to an extensive collection of over 3 million stock images, accompanied by hundreds of icons, graphs, maps, fonts, and a diverse range of visual elements to enhance your designs.
24-Hour Support
We're at your service 24/7. Our dedicated support team is here to assist your team in refining your designs and addressing any inquiries.
Brand Identity
Ensure effortless brand consistency with Venngage's My Brand Kit, allowing you to seamlessly integrate your images, colors, brand logo, and fonts with a single click.
FAQs
What program is best for making invoices?
Effortlessly create customized invoices on your desktop with Venngage's user-friendly online invoice generator, without the need for software downloads. Stay organized with convenient invoicing tools and explore premium plans for offline access through downloads and printing. Begin for free today!
Can I create multiple invoices?
Absolutely! You can design invoices tailored to different industries and business needs. Moreover, you can efficiently generate multiple invoice copies and personalize each one with updated details, images, and more.
Does Venngage have premade invoice templates?
Yes, With Venngage's free online Invoice Maker, access a variety of pre-designed templates and color palettes to streamline the creation of various invoice types.
Use our user-friendly invoice maker to effortlessly create an invoice that suits your business needs
CREATE INVOICES

Start with one of our top invoice templates: