Venngage Incident Report Maker
Complete an incident report in minutes with Venngage's Online Incident Report Maker—no tricky software required


With our professional incident report maker, you can write a thorough incident report in a manner of minutes. Join over 40,000 businesses in using Venngage as a marketing solution.

Write a thorough incident report in a manner of minutes.

Craft an engaging online report effortlessly. Utilize Venngage's drag-and-drop editor to design stunning, actionable incident reports accessible to all, regardless of design skills.
Effortlessly save time and energy with Venngage's online incident report maker. Enhance your incident report with data visualizations, images, icons, and text instantly.
Initiate captivating incident report templates that command attention and elevate your information. Whether it's an incident analysis, incident summary, or incident response report, our professional templates streamline your task.
After finalizing your report, employ the Venngage report maker to distribute it among team members or stakeholders. Print, share online, or download as PNG, PDF, or PowerPoint Presentation formats.
How to customize your incident report template in 5 simple steps:
1
Sign up to Venngage for free with an email, Gmail or Facebook account.
2
Select one of our professionally design incident report templates.
3
Fill out the form with all of the pertinent information about the incident. You can also add your own custom sections to any incident report form.
4
Add any photos, illustrations or handwritten notes to the incident report.
5
Download your incident report template with a single click or share it directly with your team.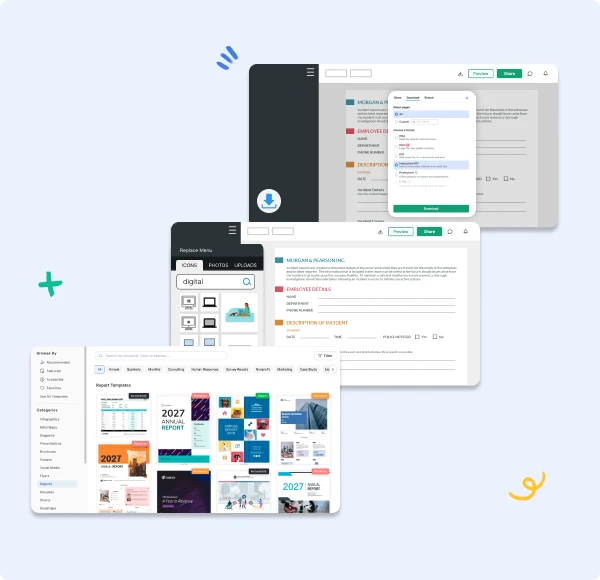 Efficiently document and analyze incidents with comprehensive incident report templates

Data Visualization
Visualize data effectively. Utilize Venngage's free report maker to seamlessly incorporate data from Google Sheets or CSV, automatically generating charts for impactful visual representation.
Brand Identity
Personalize your incident report design with Venngage's My Brand Kit feature. Skip the hassle of copying and pasting hex codes by simply entering your website, and our editor takes care of the rest, ensuring consistent branding.
Icons and Photos
Elevate your incident report with visuals. Enrich your report's visual appeal by leveraging Venngage's extensive library of over 40,000 icons or 4 million free stock photos.
Drag-and-Drop Editor
Craft your custom report swiftly using Venngage's intuitive editor. Effortlessly drag and drop design elements and modify the text, font size, and chart data with just a few clicks, saving you valuable time.
Incident Report Templates
Discover Venngage's collection of report templates specifically crafted for incidents, ensuring effective representation of your company's incident-related information. Our professionally designed templates, expertly created to save you time, guarantee a seamless reporting experience.
Share Your Incident Report
Share your incident reports securely online through a private link. Alternatively, utilize Venngage's report maker to download your report as a high-definition PDF, PNG, or presentation, granting you versatile options for distribution.
FAQs
How do I sign up for Venngage?
Join Venngage by signing in with your email, Gmail or Facebook account.
What if I'm not a trained designer?
We a ton of unique and easy to use incident report templates that you can edit in seconds. Additionally, our Blog is filled with helpful design tips, templates, and examples.
How can I download or share my incident report template?
You can download your incident report as a PNG or PDF with a single click in the editor.
Effortlessly tackle incidents with Venngage's powerful Incident Report Generator - Simplify reporting now!
CREATE AN INCIDENT REPORT

Incident Report Templates