Venngage Histogram Maker
Unleash captivating histograms to harness the visual power of data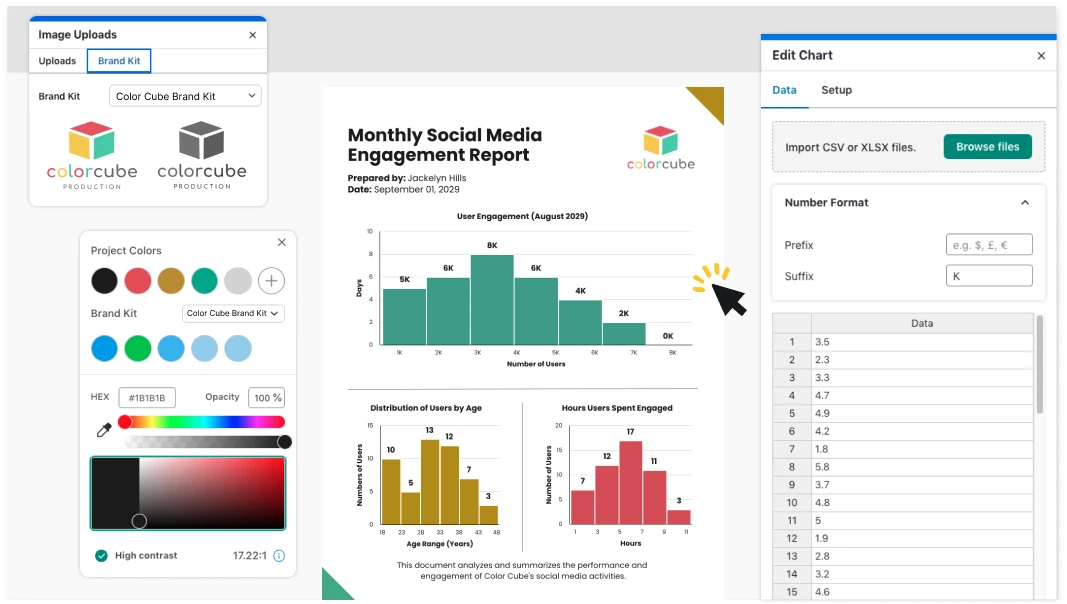 Our online histogram maker tool will help you create beautiful histograms, without design or data visualization experience. 40,000+ businesses frequently use Venngage's templates.

Uncover data's hidden gems with captivating histograms

Craft compelling and easily comprehensible charts using Venngage's online histogram maker and expertly designed templates.
Explore a diverse range of histogram types and over hundreds of templates in Venngage's library to create impactful visualizations that effectively portray your data.
Venngage does all the work for you - just type in your data labels and values or import them from CSV files or Google sheets and the graph will populate the data for you.
Share your completed histograms online with a private link, or on social media. Upgrade to a business account to download your histograms as PNG, PDF, or PowerPoint presentation.
How to unleash informative histograms in just 5 easy steps:
1
Sign up for Venngage with your email, Gmail, or Facebook account—it's completely free!
2
Select from our extensive array of professionally designed histogram templates.
3
Input your data values into the user-friendly table or import them directly from a Google spreadsheet. Modify the x-axis and y-axis, and the graph will adapt automatically.
4
Make your charts stand out by adding visuals, such as icons, illustrations, stock photos, and shapes.
5
Download your histograms as a PNG, PDF, add it to a presentation, or share it directly from Venngage with a single click.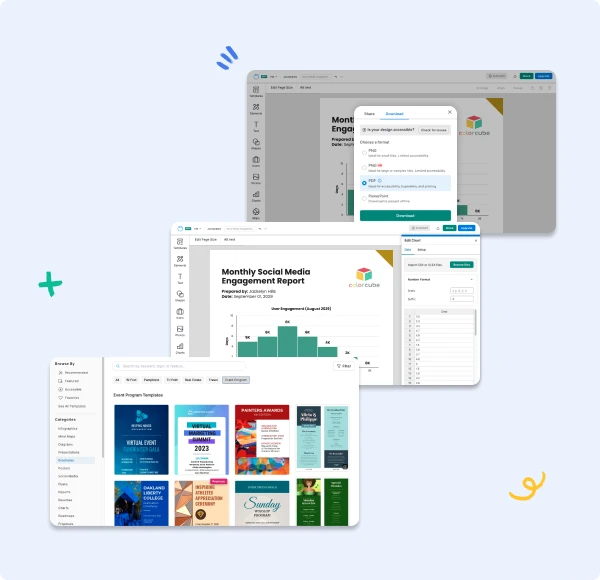 Venngage is a user-friendly yet powerful histogram maker accessible to all

Histogram Templates
Histograms can illustrate a wide range of data types. Create your data visualization with horizontal or vertical bars, clustered, or stacked layouts, as Venngage offers templates for every data requirement.
User-Friendly Editor
Make histograms easily in the drag-and-drop Venngage editor. Change the text in data labels, fonts, colors, and icons in just a few clicks.
Share Your Charts
Share your finished histograms online at no cost. Alternatively, upgrade to a business account to download your chart in PDF, PNG, or PowerPoint presentation formats.
Import Your Data
Easily import data from a CSV file or Google sheet, and the editor will automatically populate the data labels, axis information, and data values for you.
Brand Identity
Use the Venngage My Brand Kit feature to add brand fonts, brand colors, and your logo to your design. Add your website and the editor does the rest.
Real-Time Collaboration
Collaborate with your team on creating histograms. Share instant feedback and comments to enhance the effectiveness of your data visualizations.
FAQs
How do I sign up for Venngage?
Click any button on this page to start creating a bar chart. You can sign up using your email address, Gmail, or Facebook account. It's free and there's no credit card required to start designing.
Can I edit my histogram after it is saved?
Absolutely! The Venngage editor automatically saves your work as you go along. Exit the editor and come back at any time to make changes.
Can I share or print out my charts?
It's free to email or share your graph on social media. There's a small monthly fee required to download the graph as a PDF or PNG.
Join Venngage today and access our diverse collection of customizable histogram templates to effortlessly create striking visualizations! Make a histogram that stands out and tells your data's story.
CREATE HISTOGRAMS

Embark on your histogram project with our array of template options