Venngage Form Builder
Venngage's form builder simplifies the process of creating and customizing forms, making data collection a breeze.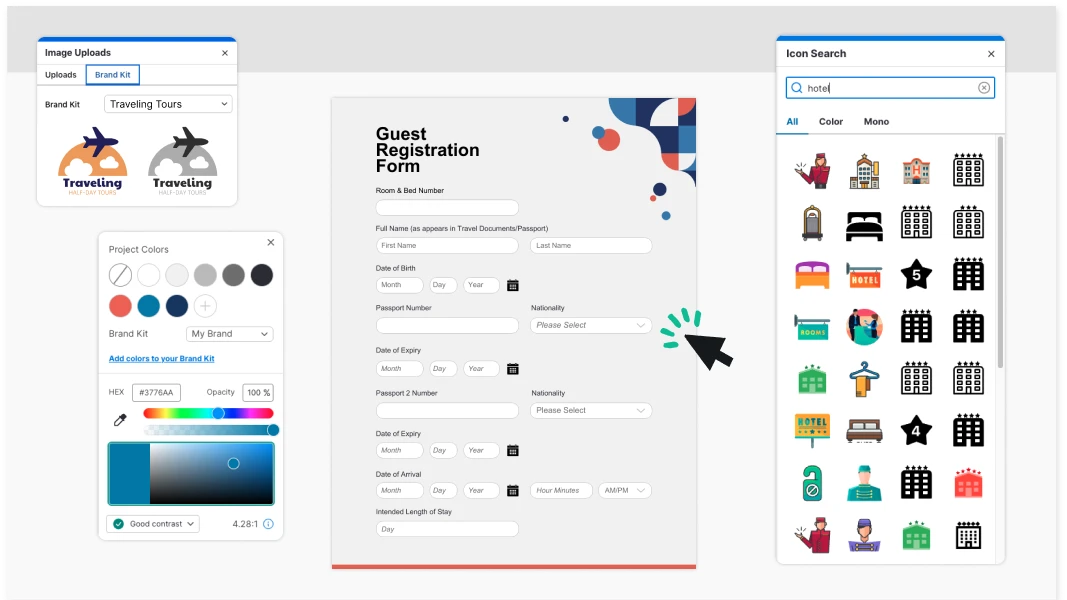 Venngage's form builder empowers users to easily design and deploy interactive, engaging forms for efficient data collection. Start creating for free right now. Over 40,000 businesses use Venngage's form builder templates.

Form design is the art of creating user-friendly interfaces for efficient data collection

Impress prospective clients with refined forms by Venngage. Our extensive collection of stunning form templates can be easily tailored to suit any business need.
Explore our professionally crafted form templates, designed for non-designers. Simply browse our selection and seamlessly input your data with ease.
Easily import your raw data from either a CSV file or a Google spreadsheet, and watch as our editor automatically populates all the required information in your forms.
The Venngage Form Builder allows you to incorporate your company's brand colors, collaborate seamlessly with team members, and receive priority support.
How to use the Venngage form builder in 5 simple steps:
1
Select one of our form templates to sign up for Venngage. You only need your email, Gmail, or Facebook account.
2
You can input your information into the form templates manually or upload data from Google Sheets, a CSV file, or an Excel file effortlessly.
3
Enhance your form template's design with attention-grabbing icons, colors, or illustrations to make it visually appealing.
4
Invite team members to join you in collaborative efforts, enabling efficient and effective data visualization.
5
Share your forms online or across social media platforms at no cost, or opt for a business account upgrade to access downloadable forms.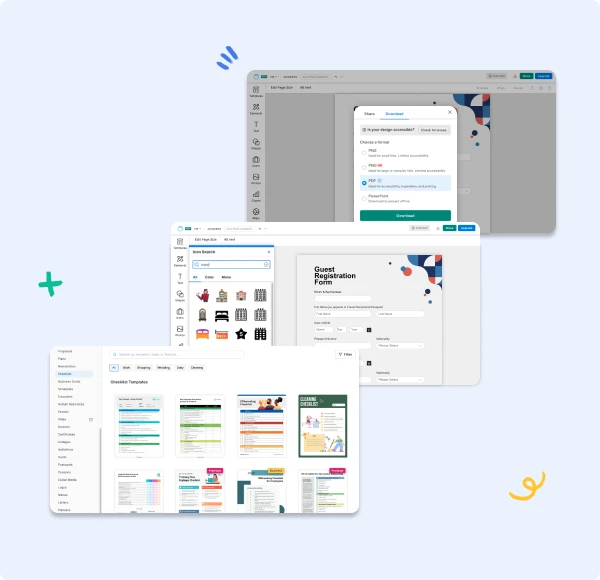 Effortlessly save time and relish the user-friendly experience provided by Venngage's Form Builder

Custom Form Templates
Harness the power of the Venngage Form Builder to choose from a variety of form types and craft visually striking forms, starting with our professionally designed templates as your launchpad.
Drag-and-Drop Editor
The intuitive Venngage editor is user-friendly even for those without design expertise. Elevate your custom forms with design elements to craft visually stunning representations of your data.
Download Your Forms
Share your finalized design through a private link, and with an upgraded Form Builder account, you can additionally download your forms in PNG, PDF, or interactive PDF formats.
Import Your Data
Avoid the time-consuming task of manual data entry. Let the Venngage Editor do the heavy lifting by seamlessly importing data from Google Sheets, CSV, or XLSX files.
Brand Identity
Use Venngage's My Brand Kit feature to add your company's brand colors, fonts, and logos to your templates with a single click.
Iconic Descriptors
Craft polished forms that will leave a lasting impression on colleagues, supervisors, and clients with the inclusion of icons and illustrations. Venngage offers an extensive library of over 40,000 icons for your selection.
FAQs
How do I download a Venngage Form?
With a business account, you have the option to download your freshly created form from the Form Builder in formats like PNG, PDF, or Interactive PDF. Alternatively, you can share it online at no cost using a private link.
What is the pricing for Venngage?
Initiate your form-building journey at no cost and share it with the world. For enhanced data visualization capabilities, consider our Premium subscription at $19/month or our Business subscription at $49/month.
Is it possible to make edits to my saved form?
Absolutely! Thanks to the Venngage editor, your work is continuously saved as you go along. You're welcome to exit the editor at any time and return later to make changes effortlessly.
The form builder simplifies the process of creating a form, allowing you to design and customize your forms effortlessly
CREATE FORMS

Explore a diverse selection of template choices to jumpstart your form designs