Venngage Food Web Maker
Enhance ecosystem understanding through the creation of detailed food webs and chains, allowing visualization of interconnected relationships


Gain deeper insights into ecosystems by crafting intricate food webs and food chains, offering visual representations of interconnections within the ecosystem. Join over 40,000 businesses today in using Venngage Food Web Maker.

Crafting food webs reveals ecosystem interactions, enhancing nature comprehension

With Venngage's Food Web Maker, creating informative and captivating food webs is a breeze.
Utilize Venngage's online food web maker to produce captivating and insightful food webs with a professional appearance.
Exploring food chains and webs reveals the transfer of energy between organisms, showcasing the intricate interconnectedness of all living beings.
Venngage food web templates offer complete customization. Modify colors, shapes, lines, add new icons, illustrations, backgrounds, and seamlessly integrate your organization's branding into every design.
How to make a food web in 5 easy steps:
1
Sign up for Venngage's food web maker with your email, Gmail or Facebook account.
2
Select any of our free food web templates that you'd like to edit.
3
Add new shapes, lines and labels with ease to the food web template.
4
Create a professional design with unique illustrations, icons, colors and fonts.
5
Download your food web or share it directly from Venngage in a single click.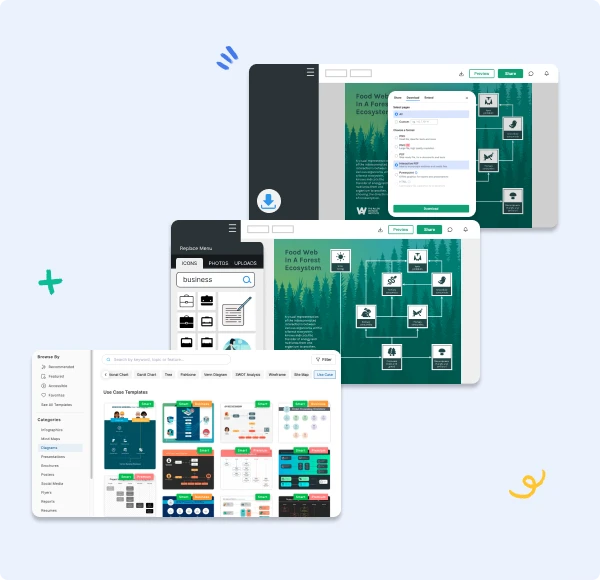 Explore food chains and webs to reveal energy transfer and intricate connections among living organisms

Customizable Food Webs
No prior design experience required! Everyone can produce captivating food webs using Venngage's complimentary food web templates.
User-Friendly Editor
The Venngage editor is built for non-designers. A drag-and-drop interface makes it easy to make edits, add content, and share designs.

DesignAI
Incorporate food webs into presentations seamlessly. DesignAI automates presentation design for you - saving you hours of time.
24-Hour Priority Support
Got a question? We're here to help. Our support team is available around the clock, so your team can keep working like clockwork.
Royalty-Free Stock Photography
Elevate your food webs through seamless integrations with Pixabay and Pexels. Gain instant access to breathtaking, expertly-captured photographs with a single click.
Brand Identity
Use the Venngage My Brand Kit feature to add brand fonts, brand colors, and your logo to your design. Add your website and the editor does the rest.
FAQs
How do I sign up for Venngage's Food Web Maker?
To start using Venngage's Food Web Maker, all you have to do is sign up for free with your email, Facebook or Gmail account.
How do I share my food web?
You can share your completed food web design using a share link, or simply download it to send over a messaging platform. Venngage share links are convenient to use on multiple platforms. And we offer a variety of downloading options for food webs. Downloading as PNGs or PDFs lets you incorporate them into other materials, too.
Can I share or print out my food webs?
You can email or share your food webs on social media for free. However, there is a small monthly fee if you wish to download the food web as a PDF or PNG.
Experience the ultimate convenience with Venngage's intuitive food web maker — craft captivating visualizations that vividly create a food web's complex connections
CREATE FOOD WEBS

Get started with one of our top food web templates: