Venngage ER Diagram Maker
Effortlessly illustrate the relationships between people, objects, and concepts in your database using an entity relationship diagram (ERD). Visualize your data with ease using Venngage's free ER diagram tool.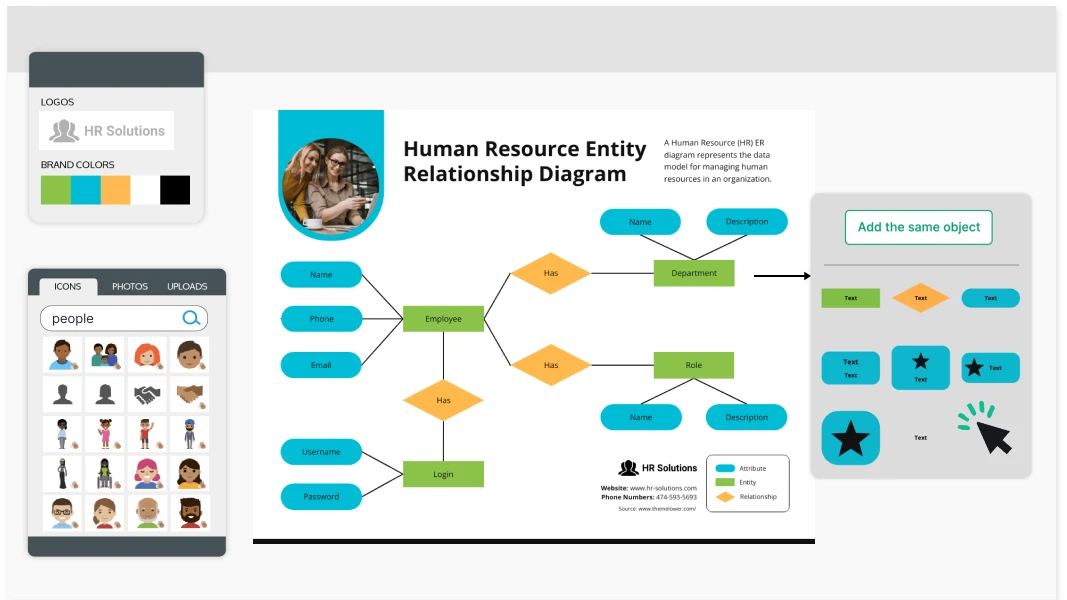 Visualize structures, processes, concepts and more with Venngage ER Diagram Tool. Craft ER diagrams effortlessly within minutes. without any design experience. Join over 40,000 businesses today in using Venngage the ER Diagram Tool.

Unlock the Power of Data: Visualize Relationships with ER Diagrams!

Effortlessly Understand Your Database Structure and Optimize Efficiency!
Venngage's intelligent ER diagram templates are entirely adaptable, allowing you to modify colors, shapes, lines, and more. Add new icons, illustrations, and backgrounds, and seamlessly incorporate your organization's branding into every design.
Leverage the power of ER diagrams in training, presentations, and marketing endeavors with absolute confidence. Simplify intricate data relationships, outline project milestones, and captivate your audience with visually impactful ER diagram designs.
With Venngage's online ER diagram maker, you can design captivating and professionally branded ER diagrams with ease.
Venngage's ER Diagram Maker empowers you to create informative and captivating ER diagrams effortlessly.
How to make an ER Diagram with the Venngage ER Diagram Tool
1
Sign up for Venngage's ER diagram maker with your email, Gmail or Facebook account.
2
Select any of our free ER diagram templates that you'd like to edit.
3
Add new shapes, lines and labels with ease to your ER diagram template.
4
Create a professional design with unique illustrations, icons, colors and fonts.
5
Download your ER diagram or share it directly from Venngage in a single click.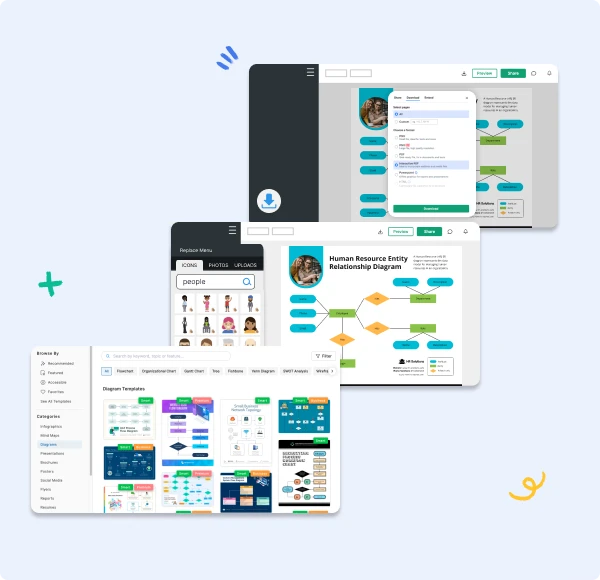 Discover the simplicity and power of Venngage's ER Diagram Maker

Customizable ER Diagrams
Design like a pro, no experience required! Venngage's free ER diagram templates make creating stunning diagrams a breeze for everyone.
User-Friendly Editor
Venngage's editor is designed for non-designers, featuring a user-friendly drag-and-drop interface for effortless edits, content additions and seamless sharing of your ER diagram designs.
Custom Charts and Diagrams
Select from an array of charts, graphs, and data widgets to elevate any design - say goodbye to spreadsheets and embrace the power of data visuals!

DesignAI
Effortlessly integrate ER diagrams into presentations with DesignAI, automating your presentation design and saving you valuable time.
24-Hour Priority Support
Have a question? We're here to help. Our support team is available around the clock, so your team can keep working like clockwork.
Royalty-Free Stock Photography
Integrations with Pixabay and Pexels elevate your ER diagrams. Access stunning, professional photography with just one click.
FAQs
How do I sign up for Venngage's ER Diagram Tool?
To access Venngage's ER Diagram Tool, simply register for free using your email, Facebook, or Gmail account.
What is the best program to create an ER diagram?
Venngage offers a robust ER diagram maker, featuring user-friendly templates that simplify the creation of intricate diagrams. Effortlessly add, delete, and customize shapes and lines with our intuitive tools. Moreover, unlike other flowchart software, you can elevate your diagrams with captivating illustrations, icons, graphics, and colors, resulting in impressive and professional-looking outputs.
How do I share my ER diagram?
Share your finished ER diagram effortlessly using a convenient share link or download it in multiple formats to send over messaging platforms. Venngage's versatile share links work seamlessly across various platforms, while downloading options as PNGs or PDFs enable easy incorporation into other materials, providing unmatched flexibility and convenience.
Explore a variety of stunning templates and start crafting your own ER diagrams effortlessly. Make an ER diagram that stands out and communicates your ideas effectively
CREATE AN ER DIAGRAM

Kickstart your project using one of our premier ER diagram templates: