Venngage Employee Schedule Maker
Craft visually captivating and practical employee schedules, ensuring both you and your team stay on track and organized with maximum efficiency!


Experience the art of efficient scheduling with Venngage, empowering you to optimize your time effortlessly. Join over 40,000 businesses today by using Venngage's Employee Schedule Maker.

Optimize your day with an employee schedule that maximizes productivity and efficiency


Unlock the complete potential of scheduling with an intuitive employee schedule design.

Venngage offers a library of fully customizable templates. Our web-based graphic design software can be accessed anywhere, so you can create schedules on the go. The best part? Signing up is free.

Whether you're creating an employee schedule for office work, or a wedding, design and functionality are important elements of an effective schedule.

An employee schedule is crucial when juggling multiple tasks in a day. Venngage can help you create an organized schedule, ensuring that you don't compromise the quality of your time or priorities.
How to create an employee schedule in 5 quick steps:
1
Sign up for Venngage - it's free.
2
Select your preferred employee schedule or work schedule template from a diverse array of designs available for you to choose from.
3
Customize the color scheme, fonts, and images to your need and liking.
4
Enhance your schedule with additional sections, tables, charts or icons.
5
Print, download or share your schedule with your team, friends and family!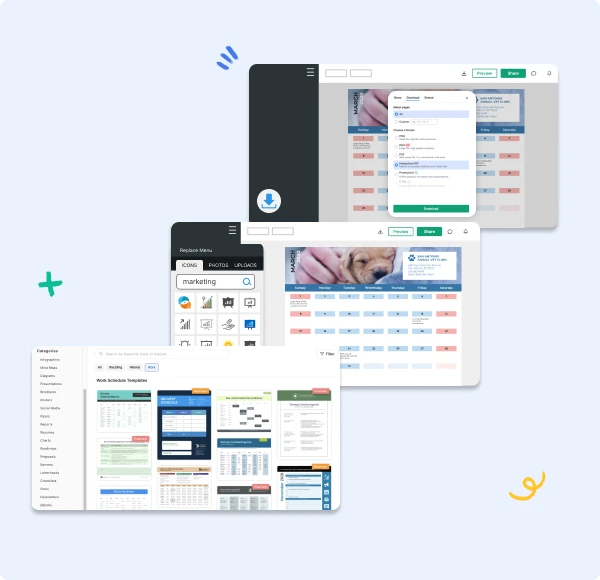 Elevate productivity by meticulously planning your schedule, prioritizing tasks, and allocating time efficiently


Employee Schedule Templates
What are the requirements of your employee or work schedule? Pick a schedule template that will be most useful to your task or event and emphasize your most important priorities.

User-Friendly Drag-&-Drop Editor
Create your own employee schedule in minutes in the simple Venngage editor. Drag and drop design elements, change the text, font size, and table data in just a few clicks.

Visual Employee Schedules
Transform your employee schedule or work schedule into an exciting and enjoyable experience by revamping it with visuals like icons, images, and creative fonts and colors. Say goodbye to mundane task lists and welcome a visually captivating schedule!

24-Hour Priority Support
Who are you sharing your schedules with? What are the tasks you want to draw attention to? Need a helping hand? Our 24/7 support team will guide you so you can create an effective and purposeful schedule.

Royalty-Free Stock Photography
Elevate your designs with our employee schedule maker, seamlessly integrated with Pixabay and Pexels. Access a vast collection of stunning, professional photography with just one click.

Download Your Schedules
Venngage offers the flexibility of downloading your employee schedules in high-quality PDF or PNG format, as well as the option of an interactive PDF. This means you can optimize your schedules for digital or print distribution, depending on your specific needs.
FAQs
How do I sign up for Venngage?
To start designing with Venngage, simply create an account using your email, Gmail or Facebook account.
Can I edit my work schedule after it's saved?
Yes! You can go back and edit your schedule at any time. Simply open the draft in your "My Designs" library and continue editing your schedule.
Can I add or remove elements in my schedule?
Yes, you can add, remove and rearrange elements using the page menu on the right side of the screen.
Employee Schedule Templates