Venngage Education Content Maker
Make engaging education content like teaching aids and lesson plans to share with your colleagues, students and stakeholders.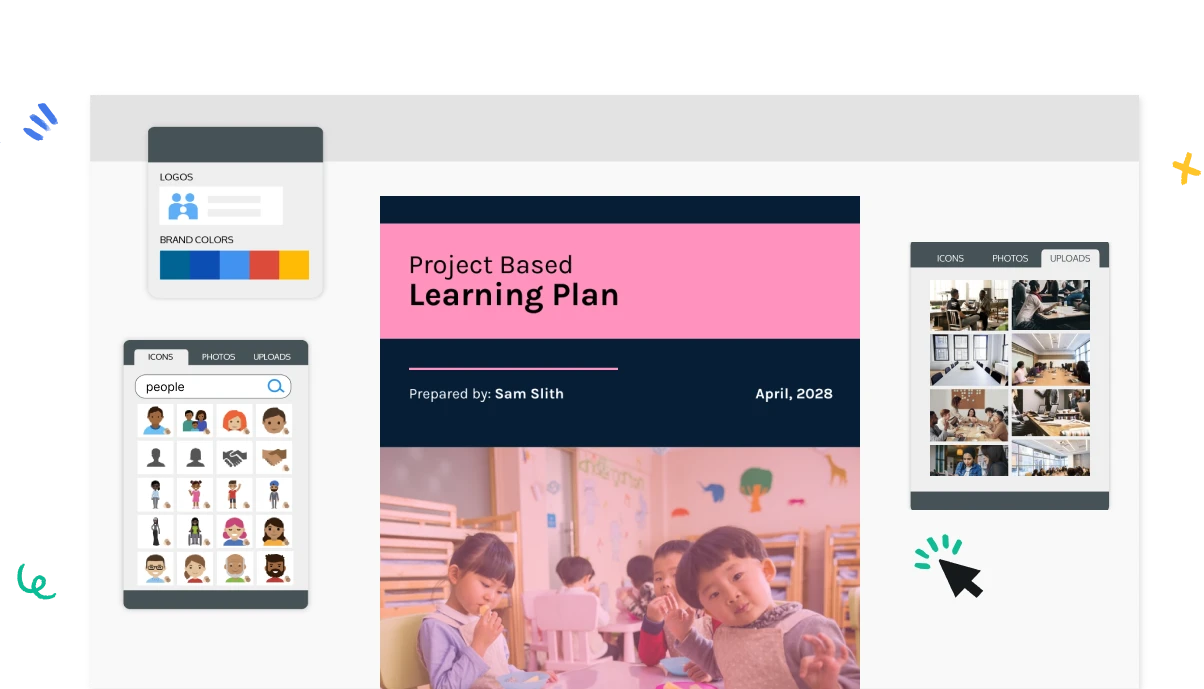 Not a designer? Not a problem. With Venngage's free library of easy-to-edit education templates, anyone can create stunning education content in minutes. 40,000+ businesses have trusted Venngage's free education content maker tool to improve their communications!

Master our education content maker tool by following these tips:

Highlight valuable information from your teaching aids or plans by adding engaging visuals to create an eye-catching education design. A great way to improve your communications!
Get access to hundreds of professionally-designed education templates, high-quality stock photos, icons, charts, illustrations, and data visualization widgets to use.
Improve participation by letting multiple people edit or leave comments on your education template. Everyone can show their design skills!
Customize your creation in a snap. Add new text boxes and graphic elements, change the layout, or even start from scratch with our easy drag-and-drop editor.
How to make education content in 5 easy steps:
1
Join Venngage for free with your email, Facebook, or Gmail address.
2
Pick an education template that fits your vision from our catalog of hundreds of professionally made designs.
3
Craft your own education design by personalizing your message and key information with our free online education content maker tool.
4
Fully customize your creation, changing or adding text, icons, stock photos, and a color scheme using our easy-to-use editor.
5
Print, download or share your postcard with the world!

Create unforgettable education designs with our powerful education content maker tool

Customizable Education Content
Get access to hundreds of professional, engaging custom education templates that allow you to showcase exactly what your audience needs to know about your teaching plan or education project. No design experience needed!
User-Friendly Editor
Use our simple drag-and-drop editor to make your own education design truly unique. Upload text, icons, data, or your own photos for maximum impact.
Export or Share in Multiple Formats
Upgrade to a paid plan to download your education design in multiple formats. Export it as an image file (PNG), document (PDF), or an HTML file.
Fonts and Visuals
Stand out from the crowd with a bold font from our collection. Use stock photography and free or premium images and icons. Or create an infographic education design to grab your audience's attention.
24-Hour Priority Support
Got a question? We're here to help. Our support team is available around the clock, so your team can keep working like clockwork.
Royalty-Free Stock Photography
Our postcard creator tool is integrated with Pixabay and Pexels to elevate your design. Access stunning, professional photography with just one click.
FAQs
How can I make an education document?
Professional education documents have never been easier to create with our online education content creator. Venngage has a large catalogue of pre-designed education templates, all you have to do is change the text and the icons —no design experience required.
How do I sign up for Venngage?
To use our education content creator, create a free account using your email, Gmail, or Facebook login. Our free education templates and software are free to use. Nonetheless, some special templates require a small monthly fee (you can enjoy them by becoming a premium or business user).
Can I share or print out my education design?
Yes! With our free account, you can share a link to your education design from our editor. To download and print your education design, upgrade to one of our paid plans.
Get started with one of our top education content templates: