Venngage Dichotomous Key Maker
Create intuitive dichotomous keys with ease to simplify complex classifications. Ideal for educators, researchers and students in biology and ecology to identify organisms and materials more efficiently!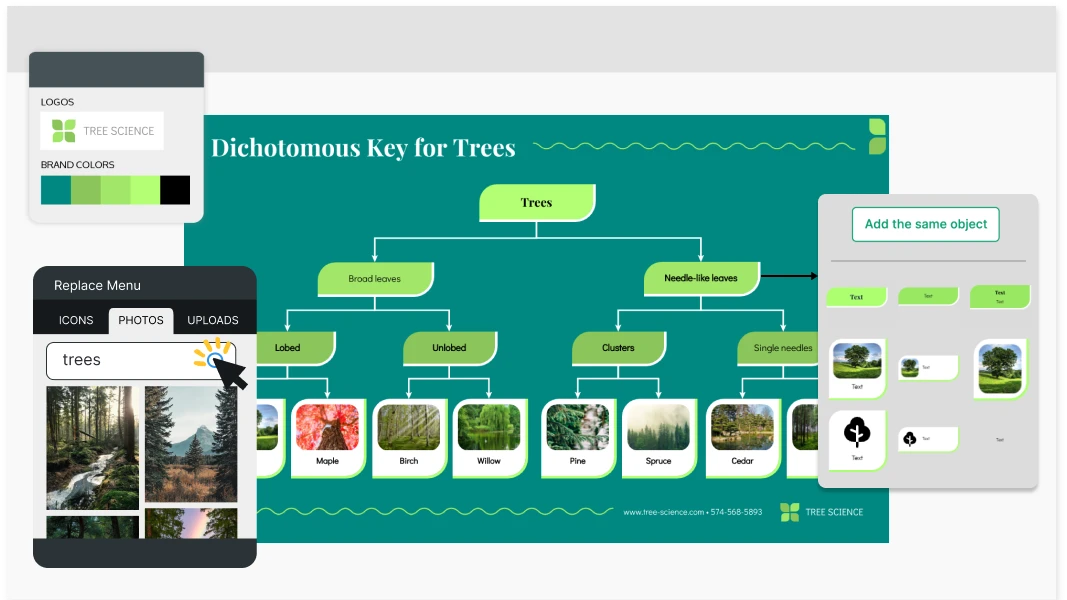 Visualize structures, processes, concepts and more with Venngage Dichotomous Key Maker. Create beautiful dichotomous diagrams without any design experience. Join over 40,000 businesses today in using Venngage Dichotomous Key Maker

Embrace the future of captivating key creation with the innovative Dichotomous Key Maker. Unlock dynamic possibilities today!

Unlock transformative visualization, decision-making, and teaching with the Dichotomous Key Maker's striking designs. Create impressive keys now!
Venngage Dichotomous Key Maker lets you easily make flowcharts that are informative and engaging.
Elevate your dichotomous keys with the Dichotomous Key Maker, an online tool that empowers you to create captivating, professionally designed, and branded keys.
Confidently utilize the Dichotomous Key Maker to create visually engaging flowcharts for training, presentations, and marketing purposes. Simplify complex processes and captivate audiences with ease.
Unlock the power of customization with the Dichotomous Key Maker. Effortlessly modify colors, shapes, lines, icons, illustrations, backgrounds and even incorporate your organization's branding into every design using our smart and fully customizable flowchart templates.
How to make a dichotomous key with our free dichotomous key maker in 5 easy steps:
1
Sign up for Venngage's dichotomous key maker with your email, Gmail or Facebook account.
2
Select one of our free dichotomous key templates that you'd like to edit.
3
Add new shapes, lines and labels with ease to the dichotomous key template.
4
Create a professional design with unique illustrations, icons, colors and fonts.
5
Download your dichotomous key or share it directly from Venngage builder tool in a single click.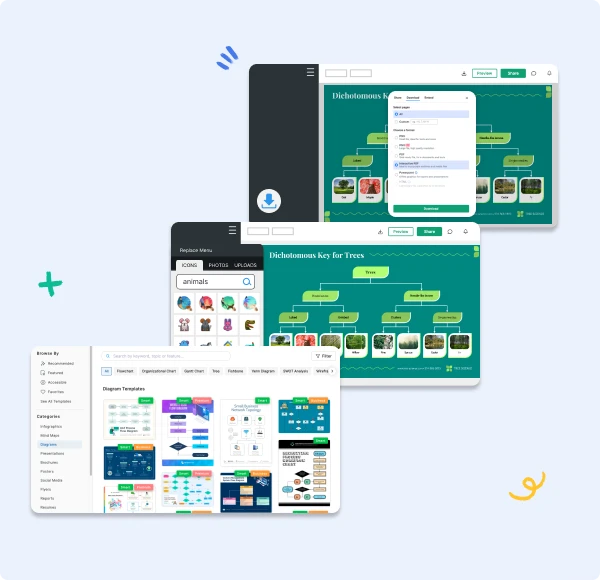 Venngage's Dichotomous Key Maker combines simplicity and power for effortless creation

Customizable Dichotomous Flowcharts
No design experience needed! Anyone can create a stunning dichotomous key flowchart using Venngage's free dichotomous key templates.
User-Friendly Editor
Designed with non-designers in mind, the Venngage editor features a user-friendly drag-and-drop interface that simplifies editing, content addition, and design sharing.
Custom Charts and Graphs
Select from a diverse range of charts, graphs, and data widgets to incorporate into your designs, eliminating the need for spreadsheets and focusing solely on captivating data visuals.

DesignAI
Effortlessly integrate dichotomous keys into your presentations with seamless ease. Let DesignAI automate your presentation design, saving you valuable hours of time.
24-Hour Priority Support
Need assistance? We're here to support you. Our dedicated team is available 24/7 to ensure uninterrupted productivity for your team.
Royalty-Free Stock Photography
Enhance your dichotomous flowcharts with seamless integrations to Pixabay and Pexels, granting you instant access to a vast collection of stunning, professional photography at the click of a button.
Venngage Dichotomous Key Maker FAQ
What is the best program to create a dichotomous key?
You can create professional dichotomous keys with ease using Venngage's Dichotomous Key Maker. Utilize smart templates, customize shapes and lines effortlessly, and enhance your keys with stunning visuals like illustrations, icons, graphics, and colors for a polished and professional result.
How do I sign up for Venngage's Dichotomous Key Maker?
Begin using Venngage's Dichotomous Key Maker by signing up for free using your email, Facebook, or Gmail account.
How do I share my dichotomous flowchart?
Share your completed dichotomous key design effortlessly with a share link or download it as a PNG or PDF to easily incorporate into various platforms and materials using the Dichotomous Key Maker.
Try the Dichotomous Key Maker today and effortlessly begin creating stunning dichotomous key templates to suit your needs
CREATE Dichotomous KEYS

Get started with one of our top dichotomous key templates: