Venngage Marketing Plan Maker
Elevate your marketing strategy with ease using Venngage's Marketing Plan Maker, visually transforming your ideas into a comprehensive and engaging marketing plan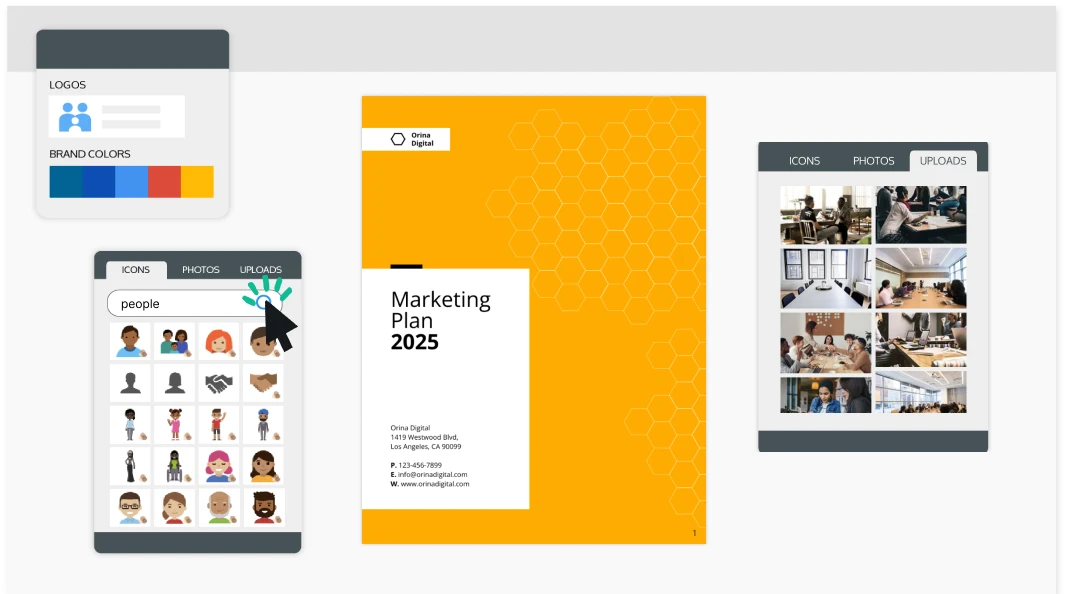 Create the marketing plan of your dreams with our strategic, modern templates. Not a designer? No problem. With our easy-to-edit templates and online business plan generator, anyone can create a professional business plan for free. Over 40,000 businesses already use and trust Venngage.

Initiate a lucrative business venture through a visually captivating marketing plan

Elevate your business's distinct impact with a marketing plan that resonates. Craft a plan for investors, lenders, and stakeholders that not only presents vital data but also captivates visually.
Seeking to differentiate your marketing plan? Elevate it with Venngage's distinctive marketing plan templates, infusing your concepts with impressive flair. With Venngage's Marketing Plan Maker, you gain this impact at a fraction of a writer's cost — you can even experiment with crafting a marketing plan for free.
Whether your preference leans towards a conventional marketing plan structure or a more innovative approach, Venngage's user-friendly, editable marketing plan templates empower everyone to create impactful marketing strategies. No prior experience needed.
Few things are as convincing to stakeholders as compelling data that tells a story. Captivate and sway your investors by transforming your marketing plan's data into vivid visualizations using Venngage's exceptional charts, graphs, and diagrams.
How to create your own marketing plan in 5 steps:
1
Create a Venngage account using your email, Gmail or Facebook account.
2
Find the professional marketing plan example that best fits your needs.
3
Edit the text and add in your own images.
4
Customize your template. Browse our library of beautiful stock photos, professional icons and illustrations. Drag and drop in the ones you like.
5
Share the link to your marketing plan with your team or client. Or download it as a PDF or interactive PDF (Business or Premium plans only).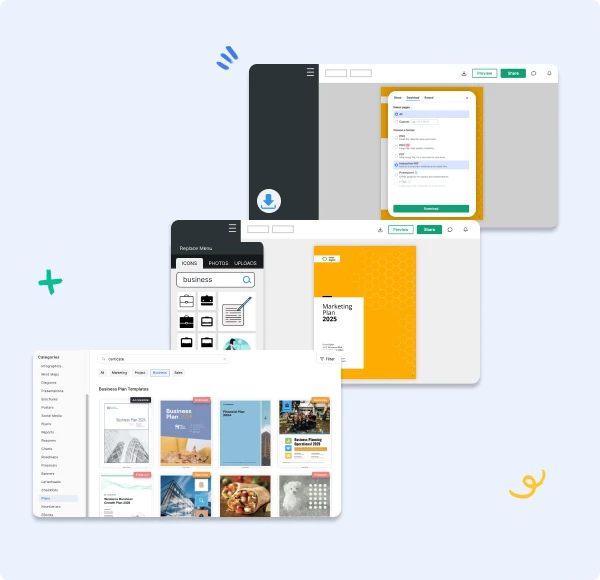 Create remarkable and persuasive marketing plans

Marketing Plan Templates
Cut costs and hours of design work with Venngage's user-friendly templates and complimentary marketing plan generator. Access a range of free online marketing plan templates.
Easy-to-Use Editor
Venngage's online marketing plan creator is user-friendly and intuitive. The drag-and-drop editor enables quicker and superior designs, even for those without design experience.
Download Marketing Plans
Retrieve your document effortlessly by clicking to download it as an image (PNG), PDF, Interactive PDF, or PowerPoint file. Integrate it into your Google Docs or Slides, Word document, or existing PowerPoint slides with a single click (available with paid plans).
Visualize Marketing Plan Data
Influence your stakeholders and weave a narrative using your marketing plan's data with the aid of charts, graphs, maps, and diagrams. Easily input your data by copying and pasting or by uploading a .csv file in just one click.
Brand Your Marketing Plans
Leverage Venngage's My Brand Kit to seamlessly import your brand identity. Effortlessly incorporate your brand colors and fonts into any marketing plan designs with a single click.
Collaborate In Real Time
Engage in team collaboration through Venngage's real-time collaboration feature. Provide constructive feedback via comments and craft impactful marketing plans together.
FAQs
How do I create a marketing plan on Venngage?
Click the green button below and sign up for Venngage using your email, Gmail or Facebook account. Then, click "Templates" to find the best design for you.
Can I add hyperlinks to my marketing plan?
Click any element (text, icon, image etc.) in our templates to add a link. Then, download your file as an Interactive PDF (Premium and Business plans only).
Can I share, download or print my marketing plan?
Yes, indeed! Share a link to your marketing plan with your team or clients. Or download your file as a PDF. Then, email or print it (Premium and Business plans only).
Utilize our innovative marketing plan maker to easily create a marketing plan that stands out
CREATE MARKETING PLANS

Create an impactful marketing plan using our templates