Venngage Cover Letter Maker
Unlock your career potential by crafting compelling cover letters that make a lasting impression.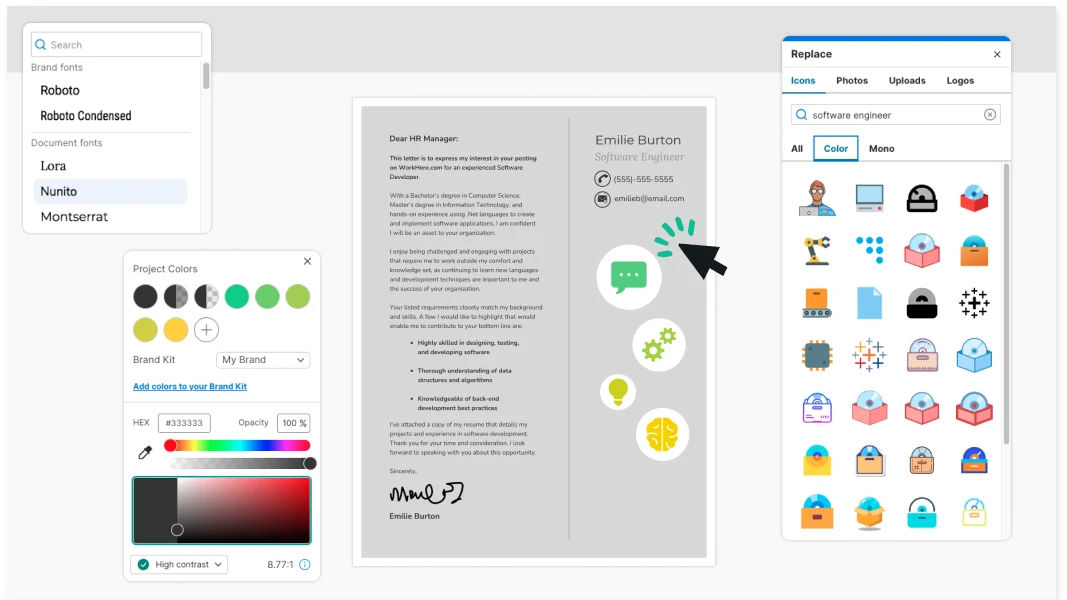 Craft your winning cover letter with ease using our intuitive cover letter maker – your path to job success starts here.Over 40,000 businesses use and trust Venngage to make professional cover letters.

Boost your job prospects with standout cover letters

Select a Template That Suits Your Style: Pick from a vast array of professional cover letter templates to infuse your personality while maintaining a polished look.
Access our comprehensive cover letter template library for free, ensuring you discover the ideal choice to impress leading companies in your industry.
Enhance Your Experience with Visual Appeal: Elevate your cover letter's impact by incorporating visual elements for a unique and attention-grabbing presentation.
Tailor Your Cover Letter's Look: Individualize the design, fonts, images, and icons to create a visually captivating cover letter.
How to make a professional cover letter in 5 easy steps:
1
Create an account on Venngage - signing up is free!
2
Pick a cover letter template that fits your personality and skills.
3
Paste your cover letter text into the template.
4
Customize your cover letter design using our easy drag-and-drop canvas.
5
Upgrade to export your cover letter in stunning quality and go get that dream job!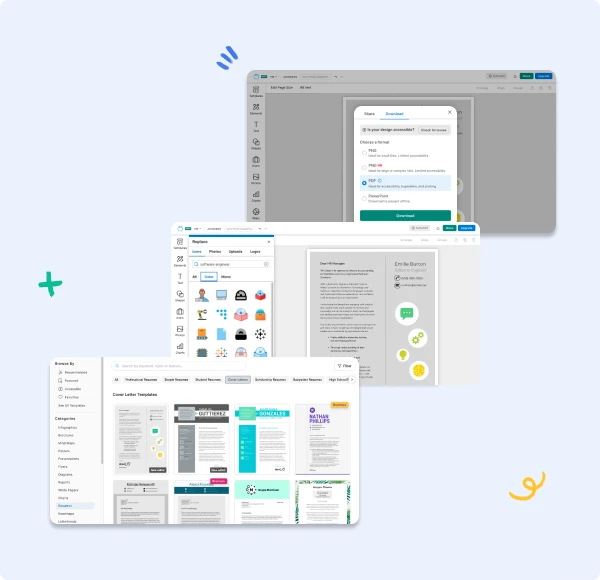 Design cover letters that captivate and impress with a personal touch

Customizable Cover Letters
Explore our collection of professional cover letter templates, find the perfect match for your CV, and easily share your cover letter for free with a public link to help you secure your dream job!
User-Friendly Editor
The simple drag-and-drop Venngage editor is easy to use. You can swap out text, images, icons and add important information to your cover letter with just a click of a button.
Download in PNG, PDF or PowerPoint
Effortlessly share your cover letter as PNG or PDF images, seamlessly incorporating them into documents or presentations for a fully interactive experience.
Icons and Illustrations
Enhance the impact of your cover letter with over 40,000 engaging icons and illustrations.
24-Hour Priority Support
Questions? Our 24/7 support team is here to ensure your team can work seamlessly without any interruptions.
Collaborative efforts
Invite your team to collaborate and streamline the creation of effective cover letters with Venngage Business, saving you time and eliminating the hassle of external tools.
FAQs
How do I sign up for Venngage?
To start using Venngage, all you have to do is sign up with your email, Facebook or Gmail account.
Can I edit my cover letter design after it's saved?
Yes! Since Venngage is online, you can go back and edit your cover letter any time, anywhere.
What makes Venngage better than other design tools out there?
We asked our users just that, and here's what they told us: Venngage offers the best variety of professional cover letter templates, the most flexible design features, and amazing customer service.
Pick a Cover Letter Template to Get Started: