Venngage Comparison Chart Maker
Effortlessly showcase key points between two topics and bring your ideas to life using Venngage's comparison chart maker.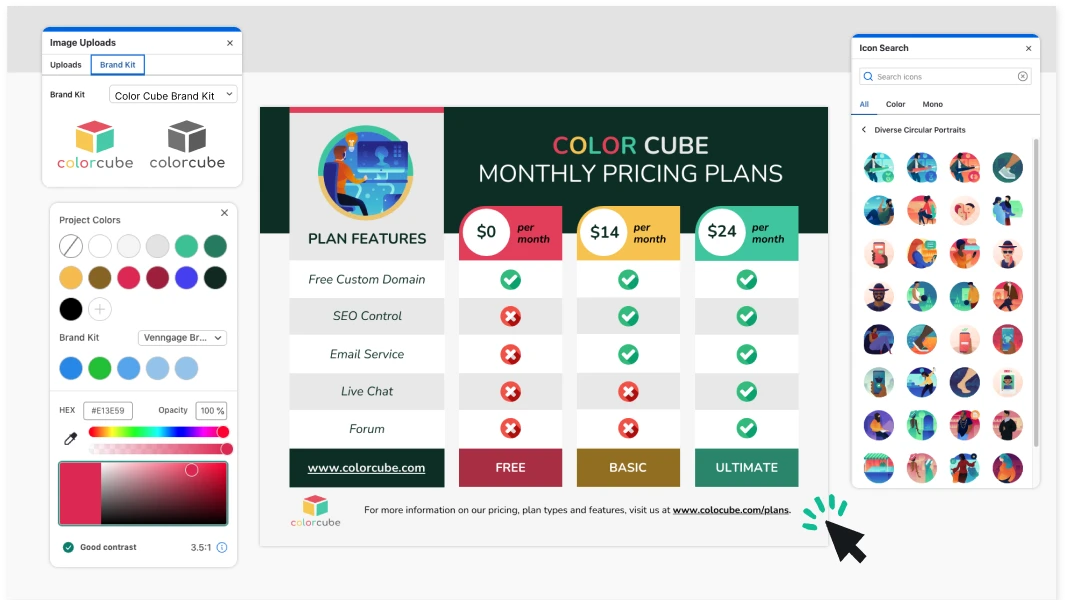 Craft captivating and conversion-driven comparison charts effortlessly, even without design experience. Utilize powerful design to highlight differences and compare valuable insights effectively. Join over 40,000 businesses in using Venngage as a marketing solution.

Create comparison charts with ease and expertise

Harness the power of bold and contrasting colors to facilitate quick comprehension and enhance the impact of your comparison chart.
Incorporate thematic icons to vividly represent concepts with just one simple graphic, enhancing the visual appeal of your content.
Enhance your charts with stunning, professional-quality images to make them truly stand out and leave a lasting impression.
Ensure brevity in your comparison chart, focusing solely on the most relevant information about your topic to maintain clarity and effectiveness.
How to create a detailed comparison chart in 5 easy steps:
1
Sign up for Venngage with your email, Gmail, or Facebook account—it's completely free!
2
Select the best comparison chart template for your data.
3
Fill your comparison chart with your data, graphs and images to make a good case.
4
Use our collection of icons, images, and fonts to personalize your chart.
5
Download your comparison chart as a PNG, PDF, add it to a presentation, or share it directly from Venngage with a single click.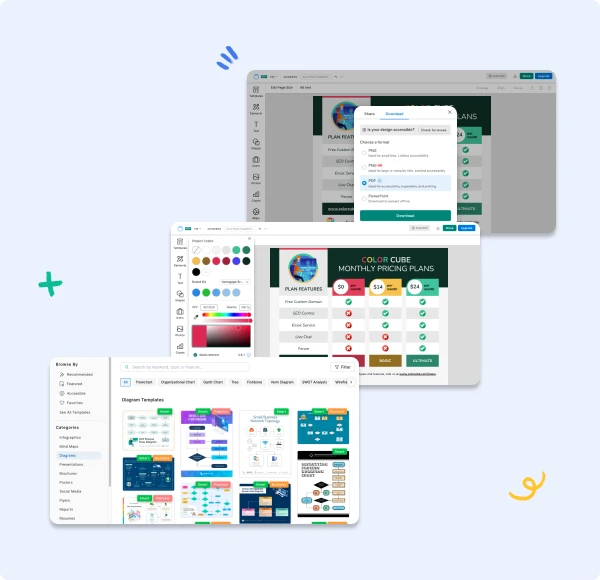 Convert intricate data into captivating visual narratives using comparison charts

Endless customizable design options
No design skills? No worries. Explore our professionally-designed and fully customizable comparison chart examples. Choose the template that fits your requirements and begin creating.
User-Friendly Editor
Our intuitive drag-and-drop editor lets you easily swap out text, images, icons, and data with just one click. You can even adjust the size of your comparison chart to fit your requirements.
Download in Multiple Formats
Share your comparison chart online or print it in high-quality formats by downloading your creation as a PNG, PPT, or PDF file.
Fonts and Visuals
Elevate your comparison chart with eye-catching images from our collection. Utilize icons, stock photography, or custom visuals to captivate your audience's attention and make your chart truly stand out.
24-Hour Priority Support
Have questions or need assistance? Our support team is available around the clock to help you out. Keep your comparison chart design on track with our 24/7 support.
Royalty-Free Stock Photography
Our template creator tool is integrated with Pixabay and Pexels, providing access to an extensive library of professional photography that will elevate your design.
FAQs
How do I sign up for Venngage?
All you need to sign up for Venngage is an email, Gmail or Facebook account.
Why should I use a comparison chart?
An excellently crafted comparison chart is among the most effective methods for comparing two things. It enables the display of all the merits and drawbacks of each element in a visually appealing manner, empowering readers to make well-informed decisions.
Can I download my charts?
Yes! You can download your charts as PNG or PDF. You also can share them on social media right from the Venngage dashboard with just a few clicks.
Sign up today to stay in the loop about all our upcoming templates, including those for comparison charts! Make a comparison chart that's tailored to your unique requirements
CREATE COMPARISON CHARTS

Start with one of our top free comparison chart templates: