Venngage Cladogram Diagram Maker
Cladograms illustrate evolutionary relationships between organisms, aiding researchers in understanding species' evolutionary history.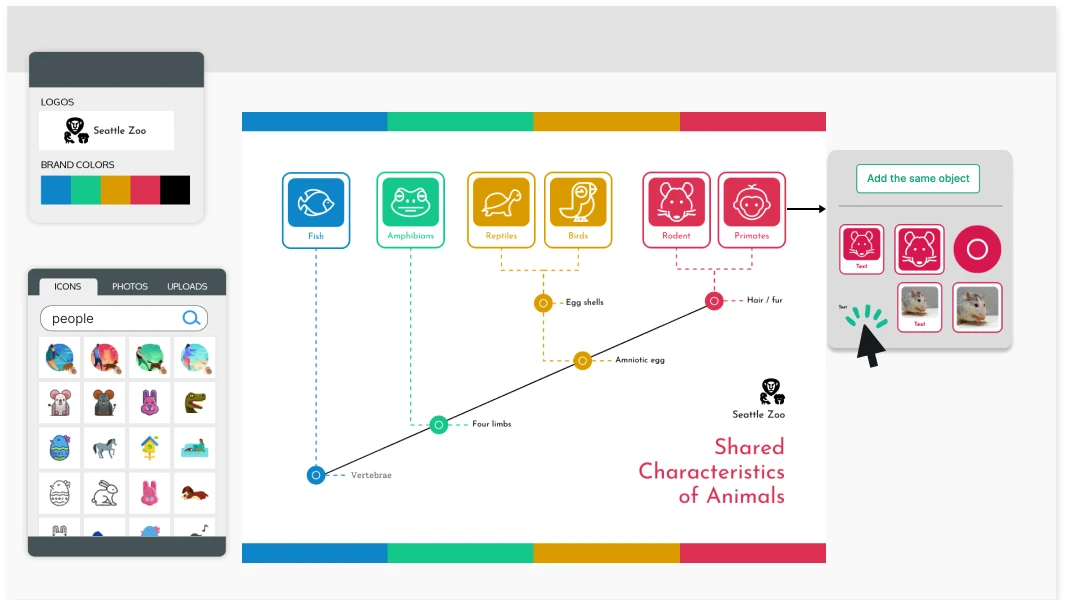 Professional cladogram templates you can customize in minutes. 40,000+ businesses use Venngage's Cladogram Maker!

Designing cladograms involves carefully representing evolutionary relationships through insightful visual narratives

Cladograms, an essential tool in evolutionary biology, visually capture the intricate relationships and ancestry of different species, revealing their evolutionary history with clarity and insight.
Cladograms visualize intricate evolutionary relationships among species, serving as valuable tools for industry reports, presentations, and academic papers.
With the Venngage cladogram maker and ready-made templates, you can make a cladogram diagram in a matter of minutes.
Effortlessly create, edit, and share your own cladograms with our high-quality cause and effect diagrams and user-friendly drag-and-drop editor.
How to create a cladogram in 5 simple steps:
1
Sign up for Venngage using your email, Gmail or Facebook account.
2
Explore our collection of expertly crafted online cladogram templates, and select the perfect one for your project.
3
Enter your ideas, data, and information into the cladogram creator.
4
Personalize your cladogram by adding your design elements, colors, fonts, and imagery.
5
Leverage the real-time collaboration feature to collaborate seamlessly with your team members by sharing your cladogram through a private link or email invite.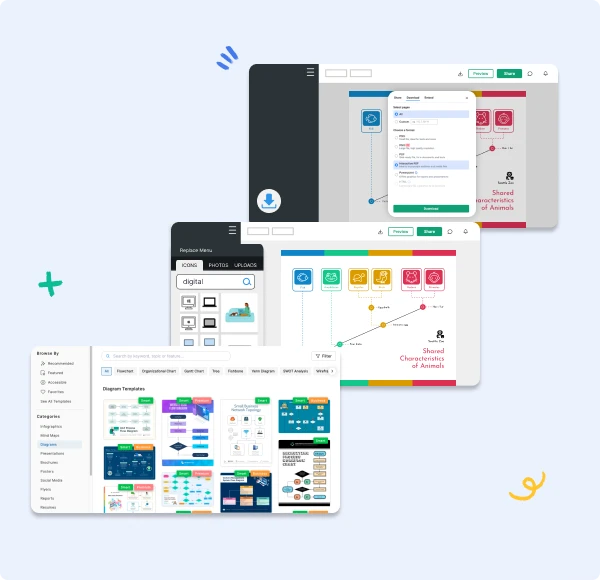 Create your own cladogram with Venngage

Cladogram Templates
Kickstart your journey with our exceptional cladogram templates, meticulously crafted by our design team. Enhance process improvement, unravel complex problems, and discover potential solutions through the power of Ishikawa diagram templates.
Customize Cladograms
Tailor the colors and fonts to align with your branding, incorporate your logo, and enhance your cladogram by including our diverse range of icons.
Download Your Cladograms
Venngage makes it easy to download your cladogram when you're done. You can save your work in high-def PNG or printer-friendly PDF format.
Add Text
Elevate your brainstorming and team collaboration with real-time diagramming. Effortlessly add new text to your cladogram template using Venngage.
Customer Support
Our devoted customer support team is readily available to aid you, whether you have questions about your subscription or need assistance while customizing your organizational chart. We are here to support you every step of the way!
Shapes and Visuals
Enhance your cladogram with distinctive shapes, icons, and illustrations, elevating it to new heights. Explore our cladogram examples to analyze evolutionary relationships and identify the connections among species with clarity.
FAQs
How do I join Venngage?
Signing up for Venngage is easy! Simply join by using your email address, Gmail or Facebook account.
How do I share my cladograms with other team members?
To share your cladogram, simply click the "share" button located in the upper right-hand corner of the screen. Then, choose between sharing it through a private link or via email.
What if I want to print my cladogram?
Absolutely possible! We recommend saving your cladogram as a PDF file to ensure high-quality printing.
Unleash the potential of visualization - Craft your own stunning cladogram with ease using our intuitive cladogram maker.
CREATE CLADOGRAMS

Choose a cladogram template to get started: