Venngage Certificate Maker
Design an amazing certificate that anyone would be happy to receive in just a few clicks with Venngage, the online certificate maker.


Not a designer? Not a problem. With Venngage's free library of easy-to-edit certificate templates, anyone can create stunning certificates in minutes. 40,000+ businesses have trusted Venngage's free certificate maker tool to improve their communications!

Create a beautiful-looking certificate with Venngage

Give your certificate a creative twist with an eye-catching background design. Pick bold colors, thematic visuals, and impactful patterns.
Give your recipient the recognition they deserve. Pick a bold font for the recipient's name and the title of the award.
Embellish your certificate design with icons and small illustrations that reflect the theme of the occasion.
If your certificate is being awarded on behalf of your company, school or organization, don't forget to brand your certificate! Upload your logo and use your brand color scheme and fonts to share.
How to make a certificate in 5 steps:
1
Sign up for Venngage for free.
2
Pick a certificate template that fits the occasion.
3
Customize the text and colors of your certificate.
4
Change the background design, add icons, and adjust the text placement as you see fit.
5
Download your certificate and give it to its deserving recipient!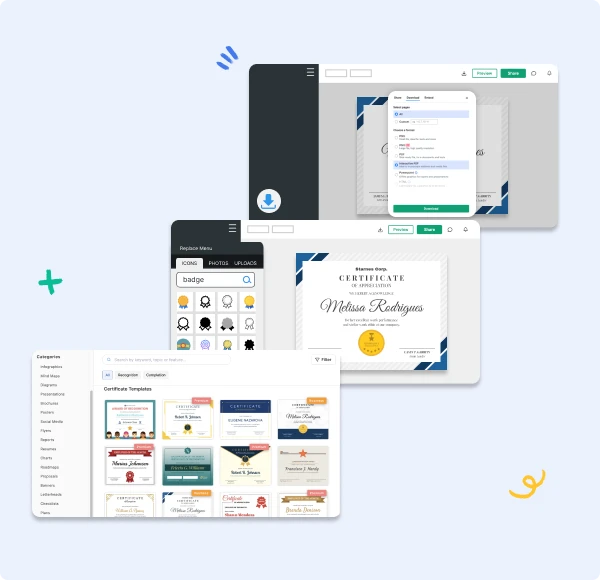 Venngage's Certificate Tool is free and easy to use

Customizable Certificates
Browse our library of certificate templates for a template that fits your manuscript. Share your certificate for free via a public link.
User-Friendly Editor
The simple drag-and-drop Venngage editor is easy to use. You can swap out text, images, icons, and add data to your certificate with just a click of a button.
Export to PNG, PDF, or PowerPoint
Upgrade to Business and download your certificate as a high-quality PDF or PNG or as an Interactive PDF for a fully clickable certificate.
Icons and Illustrations
Present your achievements in a certificate engagingly and effectively with our 40,000+ icons and illustrations.
24-Hour Priority Support
Any questions? We can help! Our support team is available whenever there is a need, so your team can work with ease.
Team Collaboration
Invite your team and create effective certificates with Venngage Business. Save time and hassle with in-editor collaboration.
FAQ
How do I sign up for Venngage?
You can sign up with your email, Facebook or Gmail account.
Can I make copies of my certificate?
Yes, you can create copies of any of your designs. When you edit a copy, it will not make any changes to the original certificate.
Can I share or print out my certificate?
Yes! You can share your certificate online or on social media directly from Venngage with a few clicks, or download your certificate as PNG or PDF.
Try Venngage's Certificate Maker today. Select any of our popular certificate templates to start.
CREATE CERTIFICATES

Get started with one of our top certificate templates: