Venngage Online Label Maker
Design custom labels effortlessly with our intuitive online label maker. Choose templates, fonts, and icons to create eye-catching labels in just a few clicks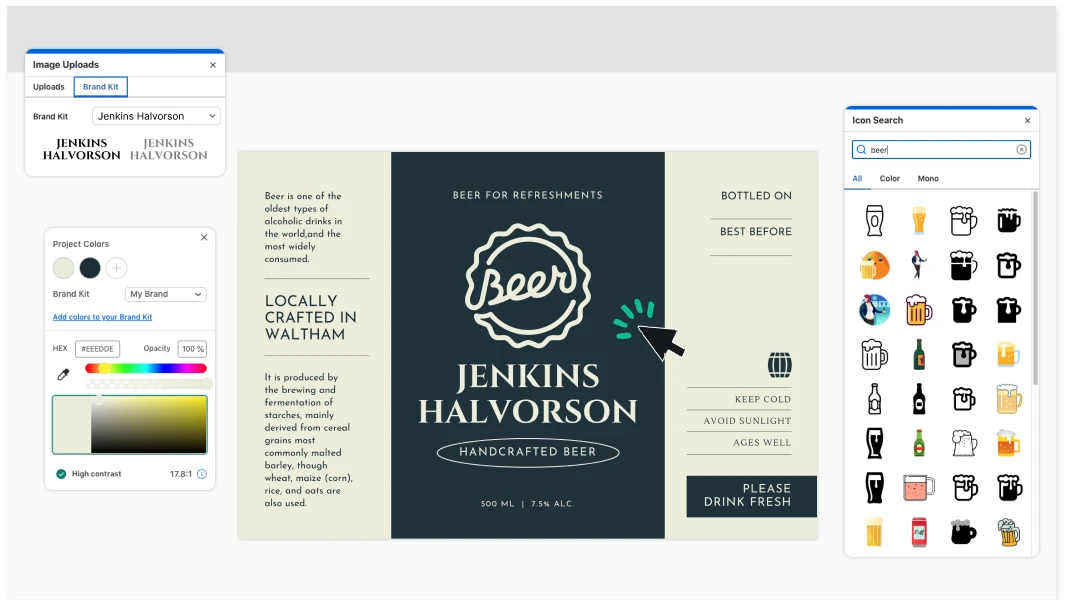 Not a designer? No problem. With our library of simple and easy-to-edit templates, anyone can start creating labels in seconds. Over 40,000 businesses use and trust Venngage to make professional labels.

Design captivating labels effortlessly, fueling your creativity with endless possibilities

Easily customize your label template with Venngage's drag-and-drop feature. Personalize each template to your heart's content, giving you full control over the design.
Add a personal touch to your label by uploading and saving your own images. For extra inspiration, explore Venngage's library of over 40,000 icons.
Ensure brand consistency effortlessly by incorporating your brand colors and fonts. Simply paste your hex codes into Venngage's color picker and select compatible fonts from the drop-down menu for a seamless design experience.
Effortlessly generate multiple versions of your labels for diverse occasions using Venngage. Copy, edit, and save distinct designs with varying color schemes and visuals to match your brand's diverse needs.
How to design a custom label in 5 steps:
1
Create a Venngage account (it's free!).
2
Pick a label template to use as the base for your own design.
3
Customize your label color scheme, font, and accent images.
4
Create and save multiple versions of your label for different uses.
5
Download your label in exceptional quality, ensuring every detail is preserved beautifully.

Unleash your creativity and design eye-catching labels with ease and precision

Customizable Label Templates
Craft personalized labels effortlessly using Venngage's intuitive and free online label maker, enriched with stunning pre-made templates and design assets.
Easy-to-Use Editor
Effortlessly create with Venngage's quick and simple drag-and-drop editor. Seamlessly swap out images to perfect your design.
Brand Fonts and Icons
Choose from a vast array of fonts, colors, and over 40,000 icons to craft your distinctive brand identity. Elevate your designs with your visual branding effortlessly!
Instant Downloads
Obtain your freshly designed label with a single click in high-quality PDF or PNG format, optimized for seamless digital or print distribution.
24-Hour Priority Support
Questions about label designs? Our support team is available for you so that your team has assistance at any time!
Collaborative efforts
Facilitate real-time collaboration by inviting multiple team members to work on designs together. Encourage feedback and comments to enhance creativity and efficiency.
FAQs
What are important elements of a label?
Important elements of a label include product name, logo, key features, and relevant visuals for effective communication and brand recognition.
Can I share my label with my team directly from Venngage?
Yes, you can share your designs with your team members using the Team Sharing feature.
What is the best format to export my label in?
PNG and PDF are both standard, versatile file types to download your label in. Venngage allows you to download in both formats.
Design purposeful labels with our label maker — create professional labels effortlessly, streamline workflows, optimize organization for success
CREATE LABELS

Check out our label templates here: