Jazz Poster Templates
Get groovy and share your love of jazz music or promote a concert with customizable jazz posters.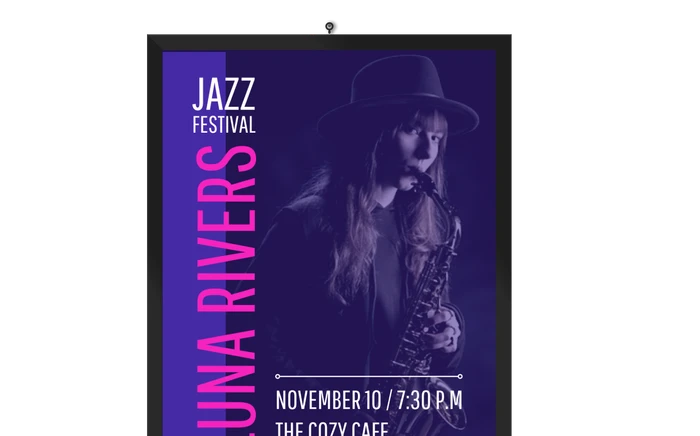 Other poster templates
Jazz Poster Templates
One of the great things about music is the diverse forms it manifests in. One unique music niche is jazz, which has captivated listeners for over a century since it emerged in the United States. It's a genre that has evolved, incorporating elements of blues, swing, bebop, and fusion to create a distinct, complex, and soulful sound. Yet, not everyone may know about jazz or find it appealing. However, a captivating jazz poster can pique people's curiosity and inspire them to expand their musical horizons. It can also entice jazz lovers to put on their dancing shoes! A jazz poster is an absolute must if you're planning a jazz concert or festival. Fortunately, creating a jazz poster is now easy with Venngage's library of jazz poster templates. The movements and beats of various decades inspire our jazz posters. Feel the upbeat improvisation of 1920s jazz or the excitement of 1960s jazz fusion experimentation with our posters. Whether you prefer a vintage or modern look, we let you personalize our free jazz poster templates to match your tastes. Once you select a jazz poster template you like, our free editor tool lets you add images, illustrations, and other design elements to match your event's theme. Customize your jazz festival poster with hues, color palettes, and fun icons. You can even change the layout or add custom text and images. With Venngage, you can design your jazz music poster quickly and efficiently. Want feedback from your music friends or supervisors? Venngage lets you share your design while it's still in progress, making the collaborative process hassle-free. Once you have finalized your jazz poster, Vennage lets you download the poster or share it on social media. You can even print out your jazz poster. Let us be your partner in creating a poster that reflects your jazz festival's vibe and captures your audience's attention.
Popular template categories