Get Well Card Templates
Help your loved ones to a speedy recovery! Design personalized get well cards using our touching get well card templates.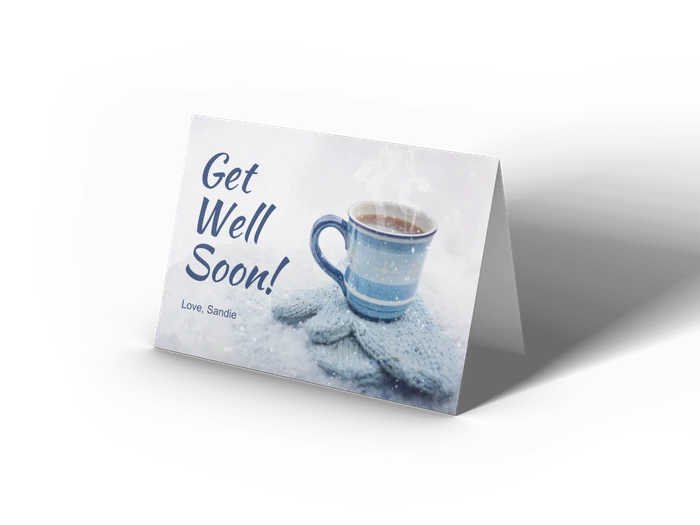 Other card templates
Get Well Soon Card Templates
Get well soon card templates provide a thoughtful and compassionate way to show support and bring comfort to someone who is unwell or recovering. These templates offer a range of designs and themes, allowing you to choose the perfect card that matches the recipient's personality and preferences. From bright and cheerful designs with vibrant colors to serene and calming styles, get well soon card templates offer a variety of options to convey warm wishes and positivity during a challenging time. One of the great advantages of using get well soon card templates is the convenience they offer. With pre-designed layouts and elements, these templates provide a solid foundation for creating heartfelt cards without the need for extensive design skills. Simply select a template, customize the text, colors, and images, and add your personal touch to create a unique and uplifting card. Whether you want to include a thoughtful message, a favorite quote, or even a photo, get well soon card templates make it easy to express your care and support. Get well soon card templates are versatile and suitable for various recipients and situations. Whether you're sending a card to a family member, a friend, or a colleague, these templates can be adapted to suit different relationships and levels of formality. Additionally, they can be used for various situations, such as after surgery, during illness, or during a recovery period. With the ability to customize the message and design, you can create a personalized card that brings comfort and encouragement to the recipient. Using get well soon card templates can also be a cost-effective option, especially if you need to send multiple cards or are on a budget. Many online platforms and graphic design tools offer free or affordable templates, allowing you to create beautiful and meaningful cards without breaking the bank. Moreover, digital templates can be easily shared via email or social media, making it convenient to send wishes of healing and support instantly. Whether you're looking to brighten the day of a loved one or extend kindness to someone in need, get well soon card templates provide an accessible and heartfelt way to show your care and bring a smile to their face.
Popular template categories